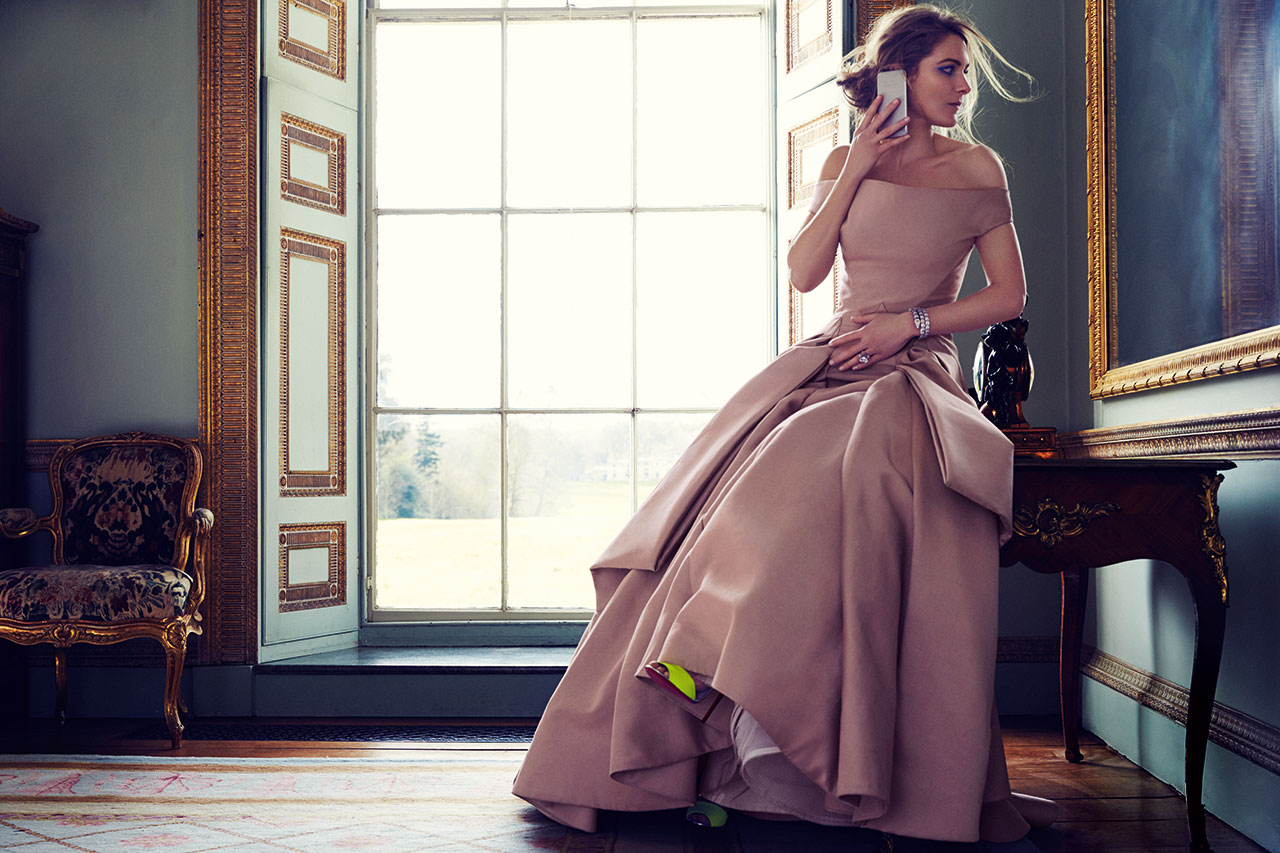 Photograph by Dusan Reljin by kind permission of Town & Country magazine
Kinvara is a director, producer, writer and speaker. Her work spans the worlds of fashion, tech, theatre and film. Kinvara has advised and directed the launch of several major tech start-ups in UK and USA. She hosts conversations with global game changers on stage and directs them on film. She speaks at conferences around the world about tech, trends and the zeitgeist. Kinvara is the creator of THE VISIONARIES, a series of mini-films shot on iPhone, filmed and directed by herself, which feature the key thought leaders of the world.
In 2018, Kinvara joined ​'McQueen'​ – the feature documentary film about the late British designer Alexander McQueen - as Executive Producer. Co-directed by Ian Bonhôte and Peter Ettedgui, the film enjoyed global theatrical release in 2018 (Salon Pictures/Embankment Films/Lionsgate). It went on two receive two BAFTA nominations (Best Documentary, Outstanding British Film of the Year) and a host of other awards.
As of 2014, Kinvara hosts 'Fashion in Conversation'​ for Apple Inc., a series of interviews with global icons (Tom Ford, Anna Wintour, Philip Treacy, Manolo Blahnik, Charlotte Tilbury, Natalie Massenet) at the Apple store which is available to an audience of over 900 million on iTunes https://podcasts.apple.com/us/podcast/fashion-in-conversation-with-kinvara-balfour/id1023771164​. She has hosted interviews for AOL Build​ and IWC Schaffhausen ​#IWCTalksTo.​ She was recently commissioned to make a series of iPhone shorts featuring 'The Architects of Time' for Vanity Fair and UBS UNLIMITED.
As a public speaker and 'consultant of cool', Kinvara speaks at events around the world for global brands and corporations including Procter & Gamble (for whom she compiles an International Trend Report), Richemont, MARKA, UBS, Access Bank and Jimmy Choo. Kinvara has lectured at London's Victoria & Albert Museum. In 2014, she was one of a few young women invited to speak at President Obama's Global Entrepreneurship Summit. She has acted as a mentor to YNG+, the next-gen members of YPO.
At 17, Kinvara won the Lloyd's Fashion Challenge, a national competition in fashion design, as judged by Vivienne Westwood. Kinvara went on to assist Westwood in her design studio. She then joined British couturier Tomasz Starzewski. Roles at Condé Nast and Telegraph Magazine, where Kinvara was Style Editor, followed.
In 2004, Kinvara was appointed London Editor, and then International Editor, for US web phenomenon ​DailyCandy.com​ by founder Dany Levy and co-owner, entrepreneur Bob Pittman. Kinvara launched the brand to mass acclaim. (In 2008, DailyCandy.com was acquired by US media giant Comcast for a reported $125million). In 2011, Kinvara joined the launch of luxury deals site Keynoir.com for a team including lastminute.com co-founder, Brent Hoberman. In 2012, she launched a digital blog platform for ​Time Out​ under new ownership by Oakley Capital. In 2014, she was appointed founding partner of daily news-and-deals site Style-Card.co.uk.
In 2016, Kinvara was appointed Digital Consultant for Vanity Fair UK, directing the publication's online content and Instagram platform. In 2016, she acted as Senior Advisor to Silicon Valley start-up SWNG, joining co-founders Tommy Stadlen and Fred Blackford, and chairman, Twitter co-founder Biz Stone. SWNG was acquired by Microsoft in 2017. In 2019, ​Kinvara advised the launch of Cryptograph.co.
After university, Kinvara trained as an actress at Central School of Speech & Drama and later completed the Royal Court Theatre writers' programme where she wrote her second play, 'After Invisible'. Her first, 'Dazed & Abused', was staged in Edinburgh, London and New York.
In addition, Kinvara is an active spokeswoman on the archaic issues of male inheritance in the United Kingdom, often speaking and writing in the press about her views. As the daughter of the Earl of Balfour, and the granddaughter of the Duke of Norfolk, she calls for an end to the unjust laws of male primogeniture which disregard women.
---
---
KINVARA BALFOUR
'HOW TO BUILD A COOL BRAND' SPEECH
KINVARA BALFOUR
AT PRESIDENT OBAMA'S GLOABL ENTREPRENEURSHIP SUMMIT
KINVARA BALFOUR
WITH DIRECTOR DOMINIC COOKE AT THE V&A
KINVARA BALFOUR
WITH DESIGNER ZAC POSEN AT THE V&A
---